If you're like most people, your kitchen table is one of the first places you think of when it comes to entertaining guests. Whether you're hosting a dinner party or just having a few friends over for drinks, your kitchen table is the perfect place to gather and socialize. But if your table is looking a bit lackluster lately, don't worry – there are plenty of ways to instantly upgrade it! From simple tweaks like adding a centerpiece or upgrading your flatware to more dramatic changes like painting or refinishing the table, there are many easy ways to give your kitchen table a makeover. Read on for some inspiration…
Kitchen table decor ideas that will make your home look amazing
Hang up a tapestry or other statement wall art: A vibrant, colorful tapestry will instantly bring life and energy to your kitchen table space. You can also hang some interesting artwork or photographs above the table for a more personalized touch.
Add plants: Adding a few potted plants around the kitchen table is inexpensive to freshen up your decor and add some texture and color to your home's interior design. Try using low-maintenance succulents like cacti, as they are easy to care for and don't require much water or sunlight.
Layer up with rugs: Rugs are a great way to create interest in any room. For example, use a large area rug to anchor the kitchen table, then layer smaller rugs on top of that with interesting patterns and colors. You can even mix and match different sizes and styles to create an eclectic vibe.
Bring in bright colors: Adding bright colors to your kitchen table decor ideas is easy to make it feel more cheerful and inviting. Choose vibrant throws or napkins that coordinate with your other colors, or add some colorful dishes to the center of the table, so they catch the eye when you walk into the room.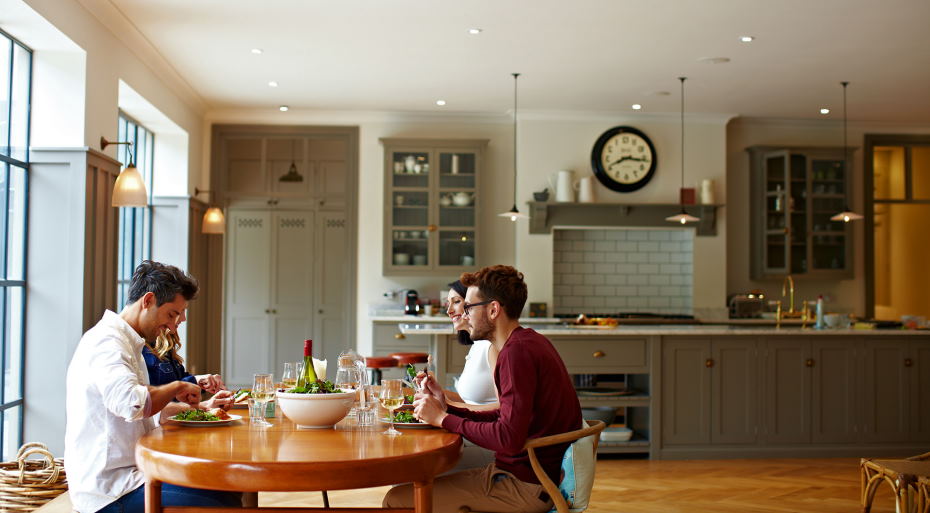 Hang up pendant lights: Pendant lights are a great way to liven up any kitchen table space and provide useful illumination for late night meals or morning breakfasts. Choose a unique shape or style to give your kitchen table some added personality.
Use decorative trays: Decorative trays are great for storing and organizing items like mugs, napkins, and condiments on the kitchen table. If you want to add extra flair to your decor, look for trays made with interesting materials like ceramic, wood, or metal.
Display framed photos: Photos of family and friends will make guests feel welcome when they come over for dinner parties or other gatherings. Hang up framed prints around the kitchen table to create a cozy atmosphere and tell stories about the special people in your life.
Add small decorations: To complete the design of your kitchen table, add some small decorations like candles, vases, and figurines. These items will make the space more inviting while keeping the overall design clean and modern.
With the right decor choices, you can create a stunning kitchen table that is both functional and stylish. With these ideas in mind, you're sure to have a beautiful space you'll love coming home to!
Ways to decorate your kitchen table
Choose an interesting centerpiece: A great way to decorate your kitchen table is to add a statement piece or centerpiece that reflects your personality. Consider using fresh flowers, decorative bowls of fruit, candles, lanterns, plants, and succulents, or seasonal decorations for the perfect touch of elegance.
Update your place settings: Add color and pattern to your kitchen table with unique place settings and dishes. Choose plates in bright colors or features intricate patterns and designs that will draw attention while adding visual interest to the room.
Opt for stylish runners: Runners are a great way to spice up a plain kitchen table without making it too fussy or cluttered. Select a runner with vibrant colors or an interesting pattern and texture to add a subtle splash of style.
Hang art above your table: To bring the room together, hang a piece of wall art that is aesthetically pleasing above your kitchen table. This will give it a focal point while making it look more inviting and homey.
Add table accents: Utilize decorative items such as vases, trays, baskets, and books to add texture and personality to your kitchen table. Use items with bright colors or interesting shapes and sizes for eye-catching decor.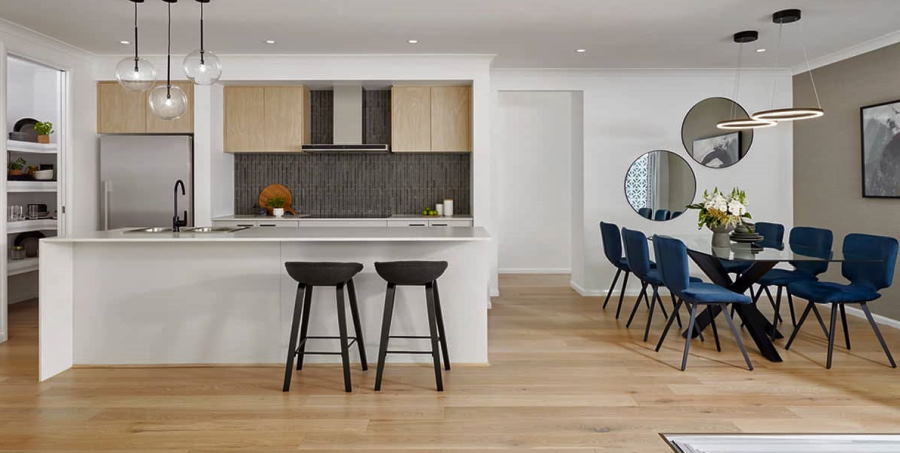 Install task lighting: Task lighting adds an extra touch of sophistication while providing functional illumination to your space. Consider installing sconces or pendant lights above the table for a modern look.
Place rugs underneath: Place an area rug underneath your kitchen table to add texture, color, and comfort. Choose a high-quality rug with vibrant colors or interesting patterns that will tie the room together.
Install window treatments: Hang sheer curtains or bamboo shades in front of your kitchen window to soften the hard angles and create some privacy while adding visual interest to the space. Select neutral colors or bold prints depending on your design aesthetic.
Install plants: Hanging planters are a great way to bring life into your kitchen and make it look more inviting and homey. Also, consider hanging potted plants around the perimeter of your kitchen table for a touch of greenery.
Layer textiles: Give your kitchen a cozy and inviting atmosphere by layering different textures and fabrics, such as tablecloths, placemats, napkins, and throws. Choose materials with subtle patterns or vibrant colors depending on the style of your home.
These tips will help make your kitchen table more stylish, functional, and inviting! Remember to get creative when decorating – there is no right or wrong way to do it! Have fun with it!